About Website
/ Temple / Island / National Park / Waterfall / Waterfall2 / Tham / Tham2 / Memorial / Memorial2 / Phra That / Phra That2 /Another / Another2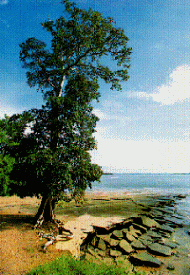 Susan Hoi or Fossil Shell Beach: is 7kms. from town along the route to the Noppharat Thara Beach. A tremendous number of shells embedded near the seashore pilled up a large amount of shells some 40 million years ago.
Phra Nakho Khiri: This covers a hilly area with an old palace and historical temples in the vicinity of the town. This summer palace was built by King Rama VI in 1860. It was named "Phra Nakhon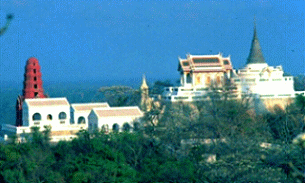 Khiri Palace", but the folk usually call it "Khao Wang". It consists of royal halls, temples and groups of buildings, constructed mostly in harmonious Thai, Western neoclassic and Chinese architectural styles. The Phra Nakhon Khiri Museum on the western hilltop exhibits some royal paraphernalia of King Rama IV and King Rama V, decorative sculptures, and ceramics from China, Japan and Europe. To reach the hilltop, one can either walk or take a cable car.