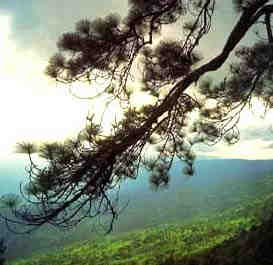 Phu Kraduang National Park: located on high plateau about seventy kilometers from Loie on the Khon Kaen-Loie Highway. Lush and fertile, it is the home of many type s of wildlife. With an elevation of 1,325 meters, the Park is ideally suitable for cold climate plants and tree.
Doi Inthanon National Park: Doi Inthanon is
Thailand's highest mountain and towers 2,565 metres above sea level. Travel 58 kilometres west of Chiang Mai via Highway 107, by regular coach to Amphoe Chom Thong and thence by minibus to the peak for a further distance of 48 kilometres
Complex mountain ranges and a mild climate characterise an area with moist and dense summit forest which is the source of important tributaries of the Mae Ping River, one of northern Thailand's major waterways. Various streams descend forming beautiful waterfalls throughout the park. These include the Siriphum, Vachirathan, Mae Pan, Mae Klang, and, the largest of all, Mae Ya waterfalls. Meo and karen hilltribes inhabit the park.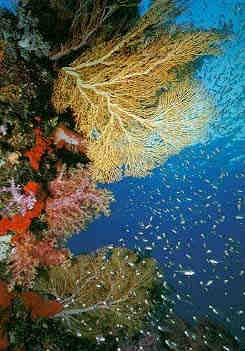 Mu Ko Similan national Park: This idyllic marine park occupies an area of 130 square kilometres in the Andaman Sea. The Similan Archipelago consists of nine islands. It is highly blessed with both surface and underwater beautiful scenery. The best time for diving and angling is from December to April. Chartered boats are available at THap Lamu, Amphoe Takua Pa, but it is more economical for a tourist to join a tour from Phuket. Boat trips to the island take about three hours.
Kho Yai National Park:at km. 165.5 on Highway No.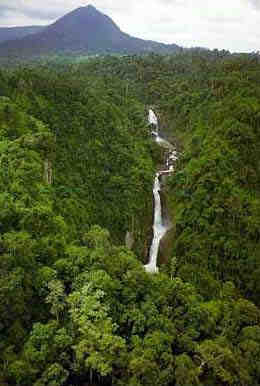 2 covers an area of 2,168 sq.km. in four provinces: Nakhon Ratchasima, Nakhon Nayok, Sara Buri, and Prachin Buri. The Park comprises various mountains, two important rivers of Lam Takhong and Nakhon Nayok, with many rare species of fauna and flora and over 20 waterfalls. Accommodations near the national park are available.