About Website
/ Temple / Island / National Park / Waterfall / Waterfall2 / Town / Town2 / Memorial / Memorial2 / Phra That / Phra That2 / Another / Another2
Phra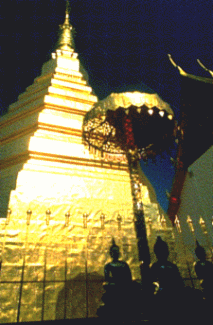 That Cho Hae: is about 8 kilometres to the east of town on Highway No. 1022. A major religious site of the province, it was built since the time of Sukhothai. The 33 metre-tall Chiang Saen-style Chedi houses a Holy Relic. It was built of bricks and covered with bright brass sheets. The name of the temple refers to fine silk woven in Sip Song Panna (in southern China) which was first used to wrap around the Chedi when the temple was first constructed. There is a fair celebrating the Chedi in March every year.
Phra That Hariphunchai: was built during the reign of King Arthitayarat, a descendan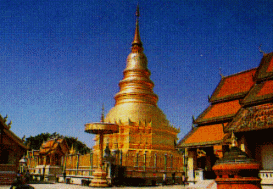 t of Queen Chamthewi some 800 years ago. A principal landmark is the 46 metre tall golden Chedi whose present appearance was the result of the restoration work in 1443 by a king of Chiang Mai. It has long been regarded as a major place of worship. Other architectural works include the ancient-style brick arch adorned with fine designs and the pair of sculptured lions at the door. There are also a square-shaped Chedi and a Khmer-style Buddha statue.