About Website / Temple / Island / National Park / Waterfall / Waterfall2 / Town / Town2 / Memorial / Memorial2 / Phra That / Phra That2 /Another / Another2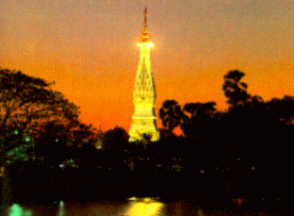 Phra That Phanom: is about fifty kilometers from town proper. it has not been conclusively proved when it was built. However, according to archaeologists, it is about 1,500-year-old. Fifty;-two meters high, each of its rectangular bases measures 12.33 meters, and its decorative top is made of gold weighing 110 kilograms. The annual Phra That Phanom Fair is celebrated on the full-moon evening of the 3rd Lunar Month. Thousands of worshipers flock to Nakhon Phanom to pay homage to this most important religious shrine in the Northeast. Stalls and performances staged throughout the 7-day celebration.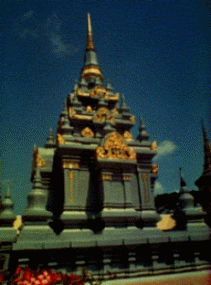 Phra Borommathat Chaiya: This ancient pagoda housing Lord Buddha relics is located in Amphoe Chaiya, 54 kms. north of the provincial capital, and dates back to the Srivijaya period over 1,200 years ago. IN the compound, there is the Chaiya National Museum consisting of two buildings. One exhibits stone and bronze sculptures discovered in the ancient city of Chaiya and the other exhibits artifacts of prehistoric down to historic periods from Dvaravati, Sri Vijaya, Lopburi, Sukhothai to ayutthaya. Art objects and several other crafts are also displayed here. The museum is open daily between 9 a.m.-4 p.m. except for Mondays and Tuesdays.