About Website / Temple / Island / National Park / Waterfall / Waterfall2 / Town / Town2 / Memorial / Memorial2 / Phra That / Phra That2 / Another / Another2

Hello! to every visitor to our website. Blessing to you from our website. This is extra work by ourselves and our English teacher. It's a website of happiness and trial. If our extra work has one or more wrongs. Please understand those wrongs together with us.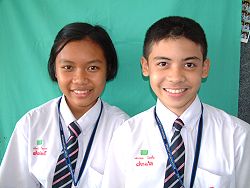 Ekamon and Wanida.
We are made and presented this website called TOURTHAI.
Inside of our website is many subject matters about "Tourthai". Our website has 15 pages. This page is first. We have written about temples in Thailand, Islands in Thailand, national parks in Thailand, waterfalls in Thailand, Towns in Thailand, memorials in Thailand, phra thats in Thailand and more and more things. This website is interesting for every person. We hope you will enjoy your trip around "Tourthai" because, we want to tell many stories from the bottom of our hearts. It's very important and very excellent.
These are our pages.