]O
About Website / Temple / Island / National Park / Waterfall / Waterfall2 / Town / Town2 / Memorial / Memorial2 / Phra That / Phra That2 / Another / Another2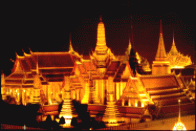 Wat Prakaeo : The Temple of Emerald Buddha is a royal temple located in the east area in the compound of the Royal Grand Palace. The temple was erected in 1782 in the same year that King Rama 1 established Bangkok as the capital of Thailand. Following the custom of the former capital of Ayudhaya, no monks reside in this temple.

Wat Pho: This world famous temple is located right next to the Grand Palace, on the south side. It is one of Bangkok's oldest and largest temples. Wat Pho was built by King Rama 1 nearly 200 years ago and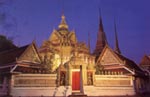 houses the gigantic gold plated reclining Buddha. This unique image is 46 meters in length and 15 meters hight with beautifully inlaid mother-of-pearl soles. Wat Pho is also regarded as the first centre of public education and is sometimes called "Thailand's First University."

Wat Arun(Temple of the Dawn): Located on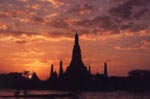 the west bank of the Chao Phraya River, Wat Arun can be reached either by Arun Amarin Road or by crossing the river by boat from Tha Tien Pier, near Wat Pho. The most attractive structure in this temple is the 79 meter-hight pagoda or "Phra Prang". Wat Arun was restored during the brief Thonburi period to be the Royal Chapal of King Taksin. Despite its name "Temple of the Dawn", the most beautiful view of it, is from the Bangkok side of the river at sunset.

Wat Suthat(The Giant swing): Located on Bamrung Muang Road, this temple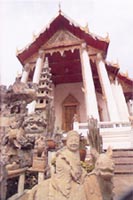 took 27 years toi build. It is famous for the excellent murals in the main building from the reign of King Rama 3. The viharn should be seen for its collection of gilded Buddha images. In front of the temple is the famous Gian Swing. Many shops surrounding Wat Suthat are well stocked.