About Website
/ Temple / Island / National Park / Waterfall / Waterfall 2 / Town / Town 2 / Memorial / Memorial 2 / Phra That / Phra That 2 /Another / Another 2

Ko Chang: Many beach huts on the island have only been open about eight ye

ars and standards vary quite a bit. Some of the older simpler bungalow complexes are in the process of being upgraded. A few close down during the rainy season (June to October) but as the island has become more popular, most places stay open and offer low season prices, sometimes as low as 40% of the normal rate. During the rainy season, boats usually only go as far as Ao Sapparot (Pineapple Bay), Dan Mai and Than Mayom the surf farther south along the west coast can be impassable during heavy rains.
Even during dry months, the trend now is for all boats to drop off at Ao Sapparot so that visitors can continue on to the beaches by songthaew.

Ko Phi-Phi: Kho Phi-Phi consists of two islands situated about 40km from Krabi, Phi-Phi Leh and Phi-Phi Don. Both are part of Hat Noppharat Thara/Koh Phi-Phi National Marine Park, though this means little in the face of the blatant land encroachment now taking place on Phi-Phi Don.
Only parts of Phi-Phi Don are actually under the administration of the National Parks Division of the Forestry Department. Phi-Phi Leh and the western cliffs of Phi-Phi Don are left to the nest collectors, and the parts of Phi-Phi Don where the chao naam live are also not included in the park.
After Phuket this is probably the most popular tourist destination along the peak months from December to March, when hordes descend on the island and snatch up every room and bungalow on Phi-Phi Don. Even so, the island still retains some of its original beauty, though to truly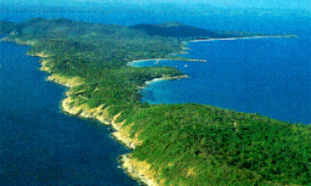 Ko Samet: Though relatively close to Bangkok and quite developed, this island still boasts some of Thailand's nicest beaches featuring the whitest, squeakiest sand in the kingdom. It is equally popular with Thais and foreigners, giving it a different feel than other established spots like Kho Samui or Kho Phi-Phi, which currently cater almost exclusively to farang tastes.
The northern end of the island is where most of the development is. Though there's nowhere near the kind of bar and entertainment scene you'd find on Kho Samui, there are some opportunities for more social travelers with a few late night bars and restaurants. As you move south, things get progressively quieter, with the exception of the heavily built-up Ao Wong Deuan. Below there, it really tones down: those seeking

Ko Tao: Ko Tao tr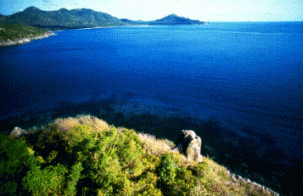 anslates as 'Turtle Island', named for its shape. It's only about 21 sq km. and the population of 750 are mostly involved in fishing, growing coconuts and catering to tourism. Snorkeling and diving are particularly good here due to the relative abundance of coral, through most of the beaches, except Ao Leuk(Deep Bay), are too shallow for swimming. is an exception to the latter.
Since it takes three to five hours to get there from the mainland(from either Chumphon or Surat Thani via Ko Pha-Ngan), Kho Tao doesn't get people coming over for day trips or for quick over nighters. Still, the island can become quite crowded during high season, when Mae Hat, Hat Sai Ri and Ao Chalok Ban Kao have people sleeping on the beach waiting for huts to vacate.