Welcome | The City Gent| My Word is My Bond| The Working Class Communities| Bedsitland| Eating Out| The Season| The Major Sporting Events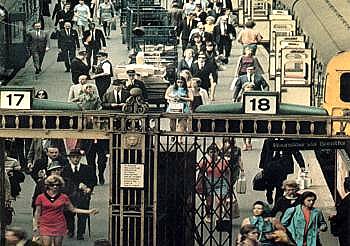 Waterloo station during the morning rush hour, as commuters stream off a train from the suburbs.
There is really no such thing as "London Life". London is such a huge city, and so many people live there, that the life of the city is made up of many different elements. There are small village communities, working-class village communities, "trinity" areas such as Chelsea and Fulham, quiet residential districts - all sorts of ways of life are encompassed by the great metropolis. Let's start with life in the city.
Just over half a million people commute into the City of London each morning to work in this great financial centre. This is the famous "rush hour".
On the 07.25 train from Warlingham or Bromley, or perhaps from Brighton on the south coast, is the familiar sight of the "city gent" on his way to work, regular as clockwork. Dressed in bowler hat, white collar shirt and desk, sometime pin-striped suit, he silently reads the pink Financial Times, occasionally nodding to some regular fellow-traveller. Some older members of the bowler-hat brigade even insist on their special seats on the train, perhaps occupied for twenty-five years.
The train becomes very crowded as it approaches London. As the train draws into the terminus platform, the carriage doors all open and the passengers pour out with a practised speed unmatched by more leisurely travellers.
Streaming across London Bridge like millions of ants, they make their way to banks, insurance companies and other old-established institutions for which London is famous.
Conservative dress, styles of speech and codes of conduct have evolved during generations of business; most are upheld even today. But one can see slight moves away from these traditional colourful shirt, suede shoed, a bright tie, or longer than usual hair. All have gradually come to be accepted - but only gradually.
At the end of the working day the rush hour starts all over again - but in reverse. The bus queues lengthen, taxis are hailed, railway stations packed.
A very different person will be found in his suburban house on Saturday or Sunday morning. The city gent becomes the family man, the sportsman, or the do-it-yourself fanatic. Gone are the trappings of the city gent. Instead we see a casually dressed individual playing cricket with his son, cleaning his car, or repairing a leaky pipe. No one could pick him out from the crowd and say, "There is a city gent!"