Welcome|
The City Gent
|My Word is My Bond| The Working Class Communities| Bedsitland| Eating Out| The Season| The Major Sporting Events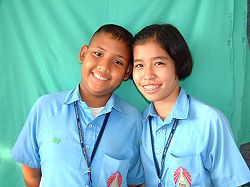 This website made by "Natchapon "and "Kridsana"
Both of us tried to do web site carefully and well to give to everybody all over the world. We had to do it for 3 month, it is about London.
Information and pictures from: Sandra Alfry, author of London Life, is a registered London guide. She gas spent some time in Europe as a Tour Manager, and in 1972 qualified as a Guide Lecturer. She conducts tours to all parts of the British Isles.
ISBN 85340 5700
Copyright 1978 by Wayland [Publishers] Ltd.
First published in 1978 by Wayland [Publishers] Ltd, 49 Lansdowne Place, Hove, East Sussex BN 3 1HF, England.
Printed in England by Loxley Brothers Ltd, Sheffield and London.