Welcome
/ Story Thailand / The King / Bangkok / Kanchanaburi and Chonburi / Nakorn Pathom / Pranakhorn Sri Ayuttaya / Phuket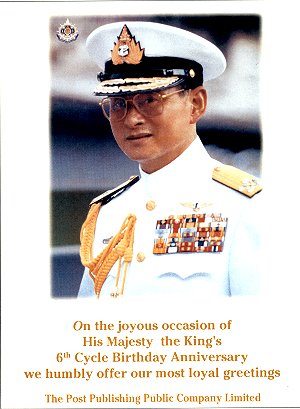 A Royal Romance

King Bhumibol came to the throne on June 9, 1946. World War II had only just finished and Siam was still experiencing many problems. After he came to the throne, the young King realized he would need a good knowledge of politics and the law. So he returned to Lausanne University in Switzerland (where he had been studying Science before he was made king) and changed his path of studies.
Still, the young King Found time for the pursuit of his hobbies which included photography, music and fast cars. He played in (and managed) a jazz band, playing the horns, piano and drums. He wrote dance tunes in both Western and Siamese styles.
In Spring 1948, on a social visit to Paris, he met with the daughter of the Thai ambassador to France. Her name was Miss Sirikit Kittiyakara.
Both shared a love for music. She played the piano, and as a result, the King's Fiat Topilino car was seen regularly Travelling from Lausanne to the French capital, Paris, where she lived.
A royal romance had begun.
But then, tragedy struck.
It was in October 1948, only months after their first meeting that His Majesty was badly in injured in a car accident. There were fears he would be totally blinded, but in the end, the young King lost the sight in just his right eye.
King Bhumibol had a daily visitor to the hospital during his recovery time -- Miss Sirikit. And it was during this period that their love blossomed.
The following year, they formally announced their engagement and returned to Thailand for their wedding a year later, in 1950.
The wedding day was April 28, the time of the wedding being 10.24 am. King Bhumibol was 22 years old. Miss Sirikit was 17. The entire country celebrated the royal wedding, which took place at Sra Pathum Palace ( now near the Discovery Center in Bangkok). The newlyweds spent their honeymoon at Hua Hin's royal palace, Klai Kangwon.
It would be a short honeymoon. Just five days later, on May 3, 1950, HM the King had his coronation ceremony, officially accepting the crown and all the symbols of kingship.
King Bhumibol thus became the ninth King of the Chakri Dynasty. In another ceremony, MR Sirikit became the Queen.
" We will reign with righteousness for the benefit and happiness of the Thai people," pledged His Majesty, as had pledged the previous eight Kings of the Chakri Dynasty.
That was 1950, when a 22 - year - old American - born Thai became King for the next 50 years.