General of Samutprakan / History of Samutprakan / The Chulachomklao Fort / Phra Samut Chedi / Ancient City / Crocodile Farm / Festival in Samutprakan / Bangpoo Resort / temple in
Samutprakan
Crocodile Farm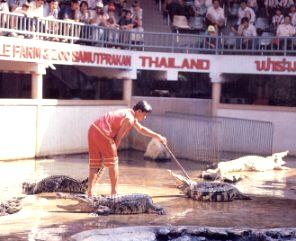 Crocodile Farm is located at Tambol Taiban away from the city about 3 kms. It's the biggest crocodile farm of all farms over the world. This farm is feeding place you can take a look at how to feed animals, especially, a kind of dangerous animals they will utilize crocodiles and other animals' skins to make various types of products. There are also the show of how to catch and feed the crocodile every day which is very fantastic.
THE GUINNESS BOOK OF RECORDS LARGEST
CAPTIVE CROCODILE
The largest crocodile ever held in captivity is an Estuarine/Siamese hybrid named 'Yai' ( b. 10 June 1972 ) at the famous Samutprakarn Crocodile Farm and zoo, Thailand. He measures 6m 19ft 8 in length and weighs 114.27 kg 2465 lb.
Samutprakarn Crocodile Farm and Zoo....The World's largest Crocodile Farm
Located 10 km from Bangkok is the World's Largest Crocodile Farm founded in 1950 by the famous Crocodile King. Mr. Utai Youngprapakorn. Mr. Utai has been the pioneer not only to preserve the endangered species from extinction, but also to provide a continuing flow of crocodile skins and related products to the world market. Here at Samutprakarn Crocodile Farm and Zoo, we are dedicated to the education, preservation' research and the conservation of wildlidlife' while reminding all - extinction lasts forever.
Experience our thrilling world famous " Crocodile Wrestling " and "Acrobatic Elephant " Stage Shows, where the audience is invited to participate.