Toon
| Shin-chan | Conan greatest detective | Doremon | Pokemon |
Sakura conquerer Taro card
|
Animaniacs | Cinderella classic story | Yuki Puzzle games
Animaniacs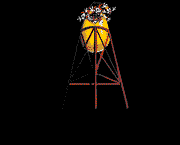 Warner Brothers, the big movie company. It made a cartoon "Bugs bunny" a rabbit is very clever and likes carrots and "Daffy duck" a black duck. It likes to win and to do things in a perverse or cranky way. Warner Brothers created "Animaniacs", which 3 children who put many people in turmoil and trouble.
The first one is the older brother who always protends to be calm but soon he leads his brother and sister to make turmoil again and again.
The second one is a boy who is a greedy boy who always eats and burps. His personallity is like a crazy boy.
The little girl who likes to copy young women by talking and doing also makes one in troble.
I thing, in this world you cannot see anyone will make more turmoil than the 3 of them, But if you think that " Animaniacs" is bad I advise to look back at yourself maybe you will be having something like some of them.
Do you want to go to