When you want to see these cartoons, click on the pictures.
The first thing, I want to do is " to thank my parents who make me love to read and thank all of my teachers who teach me to read well. Most of the books I read, sure it's cartoon books because of my age and how about you? Same as me or not?
Chin chun, Do you want to meet an amazing boy?
Conan, Find the true answer and keyword with him.
Doremon, Play and tour with them.
Pokemon, tour and joy with them in Pokemon's land.
Animaniacts, They want to travel around world.
Cinderella, Help her from unkind sister and mother.
Yuki, Joy with him to play the dark games.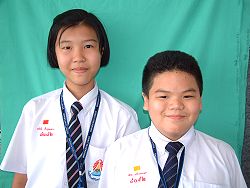 We made it for you. We like it very much because we made it by our idea and pleasure.
by PAWINEE and SAKOL.