Welcome / Story Thailand / The king / Bangkok / Kanchanaburi and Chonburi / Nakorn Pathom / Pranakhorn Sri Ayuttaya / Phuket

This website has interesting information about Thailand. We have written about 6 provinces, Bangkok, Kanchanaburi, Chonburi, Nakorn Prathom Pranakhorn Sri Ayuttaya and Phuket.This website also has story of the King.
Thank you for visiting this website.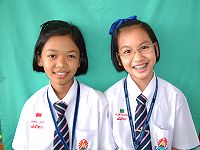 Our names are

Kanjana and Aiemsiree.
Information from : Thailand book and Amazing Thailand book.