Performing Arts

Welcome
/ The Grand Palace / The National Museum / Other Arts and Crafts / Performing Arts / Sports
Music has been an important part of life in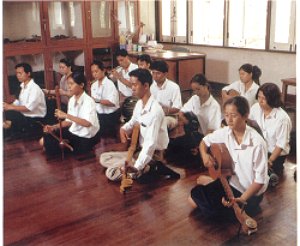 Thailand since ancient times. During the Ayutthaya period, musical instruments from India and the Khmer and Mon cultures came into the kingdom. Soon, uniquely Thai instruments were invented and used along with the imported ones.
About fifty types of Thai instruments, including variations of flies, stringed instruments and gongs are used at festivals, weddings, funerals and social gatherings. Princess Maha Chakri Sirindhorn has been a leader in the revival of traditional Thai music. She is also a noted performer on several Thai instruments.
Classical Western music was brought into the country about a century ago. A number of Thai musicians h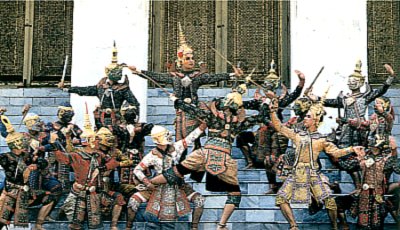 ave learned to play Western instruments, and in 1982, the Bangkok Symphony Orchestra was established.
Popular Western music and instruments have been well known in Thailand since the 1950s. Many young Thais enjoy playing the guitar. King Bhumibol is internationally recognized as fine jazz musician and composer.