WELCOME \ INTRODUCTION \ NEW SOUTH WALES \ VICTORIA\ QUEENSLAND \ SOUTH AUSTRALIA \ WESTERN AUSTRALIA \ NORTHERN TERRITORY \ TASMANIA
SUNSHINE CAPITAL : Brisbane, Queensland's sunny state capital, sits on the banks of its namesake river, which meanders under seven bridges - the most famous of which is the story Bridge - until it reaches the Pacific Ocean at Moreton Bay. Workers in the central business district and inner suburb apartment dwellers can enjoy panoramic views of the waterway. Brisbane started its existence as a penal settlement, from 1824 to 1893, and is now Australia's third largest city, with 1.3 million inhabitants. It is regarded as an enjoyable place to live with plenty of beaches, islands and bush reserves within easy reach. Brisbane's sights include the City Hall, built in 1930, which houses a museum and art gallery plus an observation tower with fine views. Brisbane is also the starting point for explorations of other beautiful south- east Queensland destinations including the Moreton Bay islands, the old Coast, Sunshine Coast and Lamington National Park.
SURFERS PARADISE: SEA DREAMS AND THEME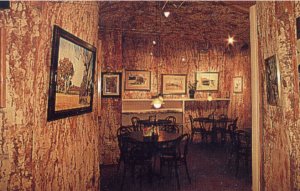 PARKS : Australia's most popular tourist destination is Queenland's Gold coast, a 40-kilometre strip of beaches, apartments and hotels. At its heart is Surfers Paradise, famous for the intensity of both its nightlife and beach days. Just inland from the Gold Coast, near Coomera, are several major theme parks. Sea world, at Main Beach, features sea lion, penguins and roller coaster rides,plus water skiing and dolphin shows. Warner Brother's Movie World is the kingdom of Bugs Bunny, Police Academy and the wild Lethal Weapon ride, plus studio tours. Dream world is more Australian-oriented, with plenty of local wildlife and some 27 rides and attractions are included in the one admission price.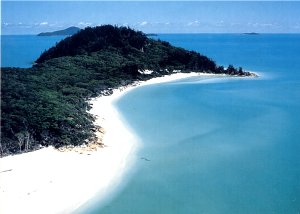 THE REEF: SUBMARINE WONDERLAND : The Great Barrier Reef is broth the largest coral reef in the world and the planet's largest living creature. Its 2500 reefs stretch some 2000 kilometres along the coast of Queensland and are to an astonishing number of life forms, including 300 species of coral, 4000 types of shellfish and over 2000 species of fish. In the Whit Sunday group of islands, Whitehaven Beach on Whit Sunday Island is still much the same as Captain James Cook might have seen it during his exploration of the coast in 1770. Goannas, gulls, turtles and kookaburras share this national park with no-one but day-trippers. Further south, Lady Musgrave Island, a tiny, uninhabited coral cay offshore from Bundaberg, is popular with divers and snorkelers attracted by the excellent coral and fish life of its lagoons. Visitors can also view the reef from a glass-bottomed boat.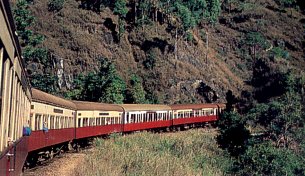 CAIRNS: CAPITAL OF THE REEF : Cairns is the unofficial capital of far North Queensland and jumping-off point for the northern Great Barrier Reef. The Pier shopping complex overlooks Cairn's vast Trinity Bay . In the ranges behind the city, Kuranda village and its rain forest market can be reached by a unique train that climbs up from Cairns past spectacular rain forest scenery. Further north, the jungles of Mossman Gorge in the Daintree National Park shelter crocodiles and rare birds.